Introducing The Feverfew Wallpaper and Lampshade collection. 
Love Frankie x Abigail Borg
Here at Love Frankie we are beyond thrilled to share with you our latest collaboration with surface pattern designer, illustrator, and all round good bod, the incredible Abigail Borg.  Working together we have released an exclusive range of botanical inspired lampshades available exclusively on both our official websites.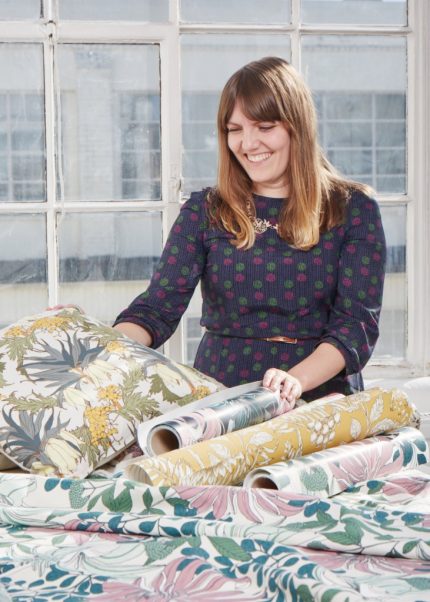 Abigail's delicate use of colour, mixed with her intricate floral illustrations made this an easy choice when deciding to work together. She has reignited our love for all things feminine and vintage and we are incredibly proud of this new range.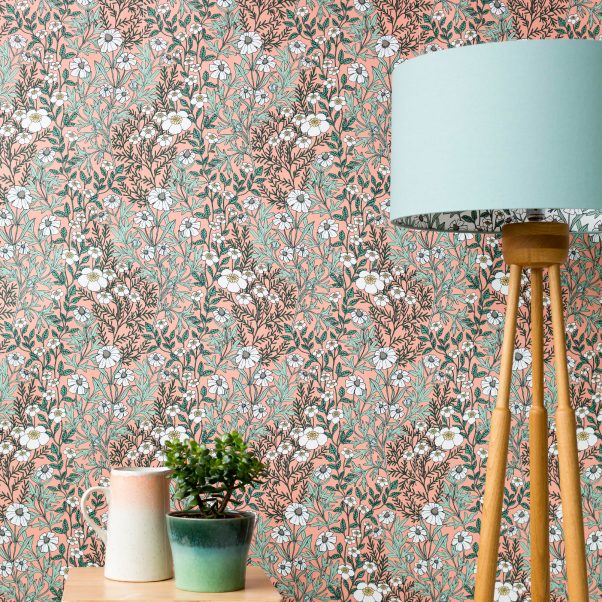 The Feverfew wallpaper collection is available in three colours; Moss, Coral and Midnight will ignite feelings of nostalgia and days gone by. With her hand drawn illustrations of wild flowers, lush fields, blossoms and blooms, we feel it's the most perfect pattern to turn into statement lighting.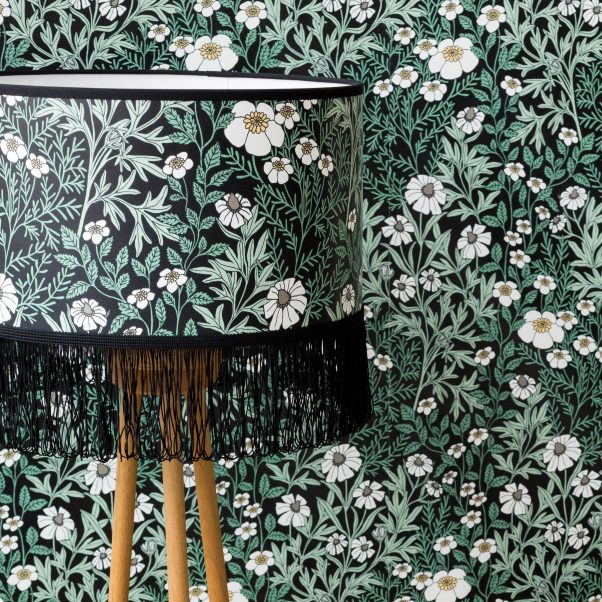 Using this stunning paper we have created a collection of beautiful lampshades, designed to compliment this delicate pattern. This includes our timeless Drum Lampshades sold with or without our vintage inspired fringing. The new style Empire shades with striking ribbon and our best selling silhouette lampshades with complimentary cottons.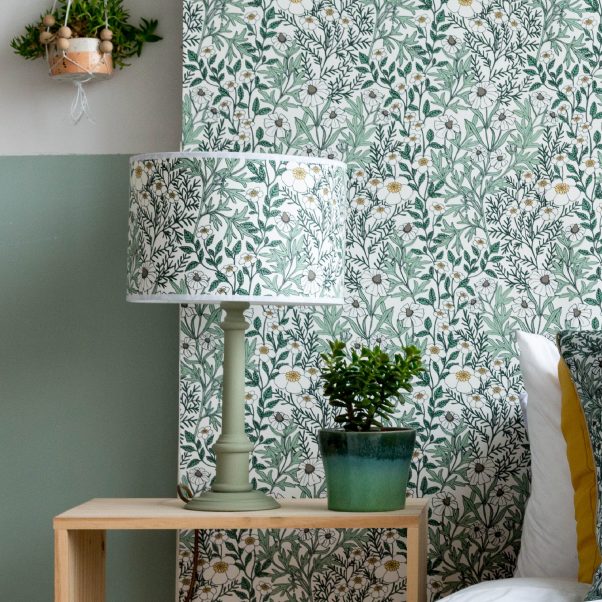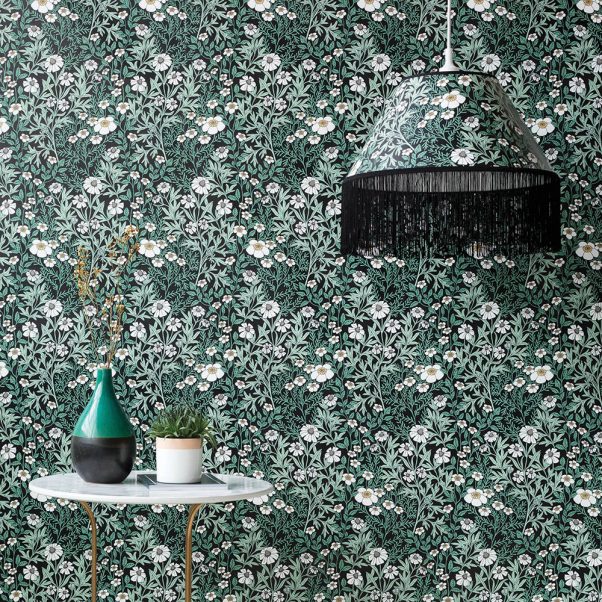 Pictured here is our beautiful Empire lampshades, similar to our French drum shades, but slightly more tapered at the top creating a classic vintage look. Available in Moss or Midnight and with or without fringing.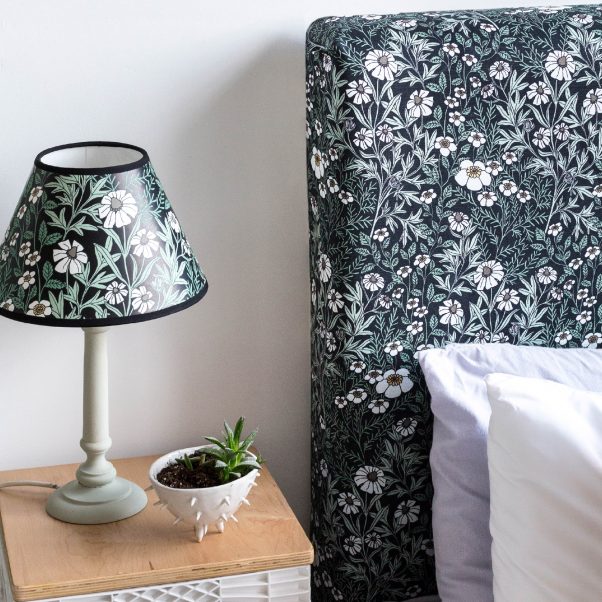 We caught up with Abigail to find out the inspiration behind The New Feverfew Collection….
– Tell us a bit about yourself, where did your love for designing patterns and botanical illustrations begin?
I have always loved drawing, pattern making and colour. I intended to study Fine Art at University, but due to traffic driving up to Leeds I missed the open day for the course, so I attended the Printed Textiles & Surface Pattern Design one instead. It ended up being the perfect course for me, and it's here my love of wallpapers and design for interiors started. I have always been drawn towards flowers as a subject matter, the range of colours, shapes, sizes, how could you ever get bored or run out of ideas for patterns?
– The Feverfew collection has just launched, could you tell us about the inspiration behind these beautiful designs?
A lot of my work so far has been focused on large scale florals which works great for wallpapers and fabrics, but I wanted to experiment with a smaller scale floral print which can be applied to other products. I think Feverfew works perfectly on the lampshades, and gives a subtle hint of pattern and colour within a room without being too dominating.
– You already produce a stunning collection of wallpapers, fabrics, cushions and chairs; what inspired you to work with Love Frankie and to introduce a lighting collection?
Lighting makes such as impact in a room, so I was thrilled when Johanna contacted me about a potential collaboration. I thought my designs, paired with Johanna's creative eye for detail and finishings on a shade, would be a perfect match for an exciting new product so it's been a pleasure to work with her on this collection.
– Feverfew is available in 3 beautiful colours, and 3 different style lampshades, could you tell us a bit about your favourite?
When Johanna sent me all the sample shades, she sneaked an empire shade in there in Feverfew Midnight with coordinating black fringe. I hadn't considered using fringing on any of the shades, but I fell in love this shade, and although I know fringing can take some people back to a dark place in 1970's interior design, I think compliments the shade wonderfully.
– Can you describe your personal style and how have you incorporated this into your home?
As you can probably guess, I love to incorporate patterns, colours and textures into an interior. People often ask if I decorate with my own designs, but apart from a couple of cushions – that's it. There are so many amazing designers out there I love to be surrounded by lots of different designers work, and keep my own at the studio.
– Who are your favourite designers and/or artists?
I admire the textile designs of Celia Birtwell and Zandra Rhodes, and from my fine art days the pioneering work of Kandinsky and Mondrian. Looking back I've always been drawn to artists who use a lot of colour and shapes in their work. More recently I love the work of Lake August and Makelike, who both design beautiful wallpapers and textiles which I'd happily have in my own home one day.
– When are you happiest?
I'm quite a happy person, and used to get told off for laughing too much or smiling at inappropriate moments at school. I tend to be happiest when I'm off the computer, with friends, travelling, buying/tending to plants, drawing or swimming which I try to do most days before going to the studio.
– Any guilty pleasures you are willing to share?
I've seen every episode of Grand Designs at least twice, trashy reality tv, martinis, eating peanut butter out the jar.
– What's next for Abigail Borg?
I have just moved into a new studio, which is quite a bit bigger than my previous place. The plan is to create a showroom area for clients to come in and view wallpapers and fabrics, which is something I've always wanted to have. I have a couple of big collaborations launching in 2018 which I have to keep tight lipped about for the moment. Something I've been asked about a lot are art prints, so I'm going to be launching a collection of those nearer to Christmas.
A very big thank you to Abigail, We've absolutely loved working together and look forward to possible collabs in the future, but for now….. Shop The New Feverfew Collection here