We wanted to talk about gallery walls and how to hang your artwork but hey, what do we know? We'll stick to lampshades for now but who better to give us all the best tips, tricks and advice on picture hanging and gallery walls, than the two self confessed interior style junkies who have hit the art world with an absolute BANG.
Their kick ass collection of punchy typographic artwork and bold music inspired posters and prints are a firm favourite here at Love Frankie HQ and we couldn't wait to sit down with a cheeky horlicks and to chat artwork and gallery wall styling with some very dear friends of ours.
…and so with slight trepidation and some very wobbly knees, strap in and hold tight as we hand over the reigns to The Nana's of Anarchy.
Us old birds know a thing or two about pictures, hanging artwork and gallery wall styling and we're here to give you an insight into how to style your gallery wall, with information on gallery wall layouts, picture wall styles and the best fixtures to use.
The beauty of a gallery wall is in the personalisation, meaning no two gallery walls will ever be the same. There is very little chance dear Betty down the road will have the same gallery wall styling as you.
So break the rules, think outside the box and let's get styling, we're here to help you create a banging gallery wall of dreams.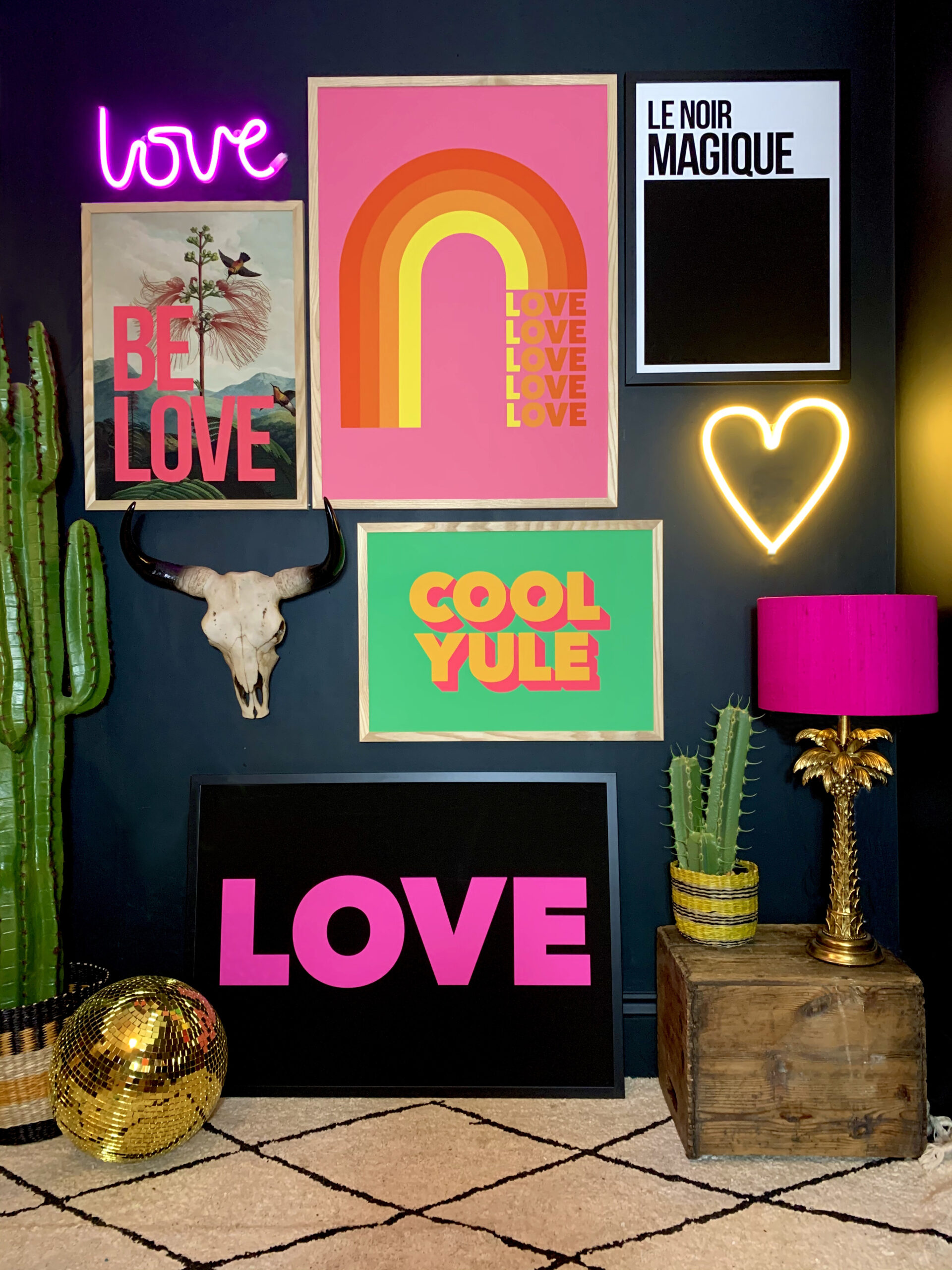 GALLERY WALL STYLES
Us Nanas have been in the game (not that game) for a combined total of 162 years, we believe your artwork should be a reflection of you, your personality and your lives. Yes of course showcase the art; the expensive and the cheap but make sure you frame the special moments and the little mementos of life. The gig tickets and posters, kids artwork or even your train tickets to aunt Glenda up in bonnie Scotland. It's your gallery wall so lets make it personal…
What style to go for… Vintage? Abstract? Monochrome? Contemporary?
Consider the era of your home, the style of your current decor and your personal taste in artwork. A carefully curated gallery wall with matching frames and monochrome abstract prints is just as effective as an bonkers collection of different coloured frames, different styles of artwork and cheeky vintage treasures.
One idea is to stick to one colour theme or choose one art style and showcase the same styles but in different frames.
For maximum impact in your gallery wall design…know your style and stick to it.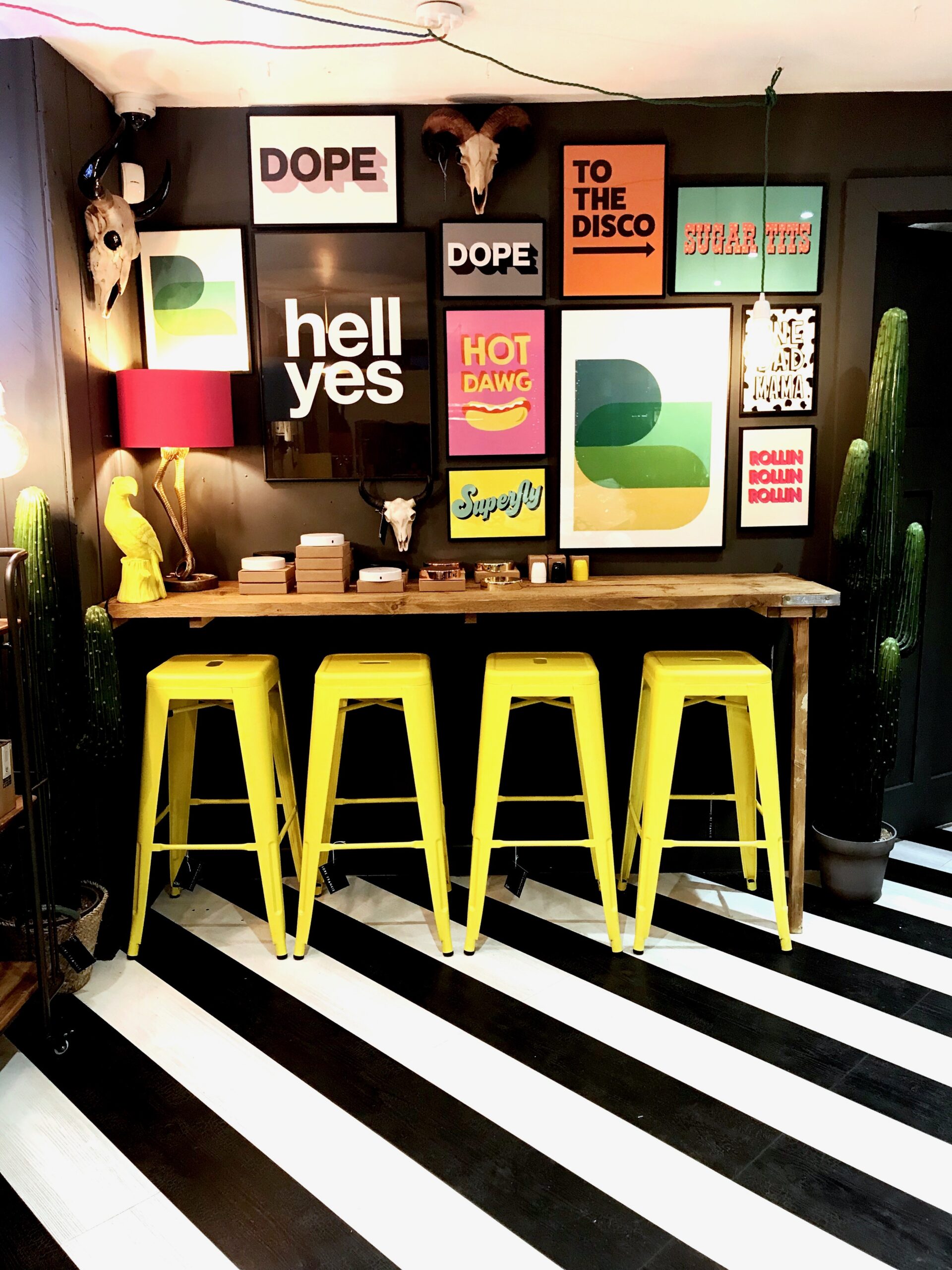 GALLERY WALL LAYOUTS 

One of our favourite top tips when it comes to working out your picture placement, rather than banging holes in your walls willy nilly is to use your floor space. Sweep everything to one side and start playing about with different layouts. Start with your showstopper piece, your favourite piece of art or the biggest print or poster in your collection and use this as your focal point and build from there.
Placement: Go central above the sofa in your lounge or work with symmetry in the dining room.  Or even do as us Nanas do and fill up your way up hallway above ya trusty stairlift.
Take a sneaky peek at our Pinterest board with some bangin' gallery wall ideas and inspirations.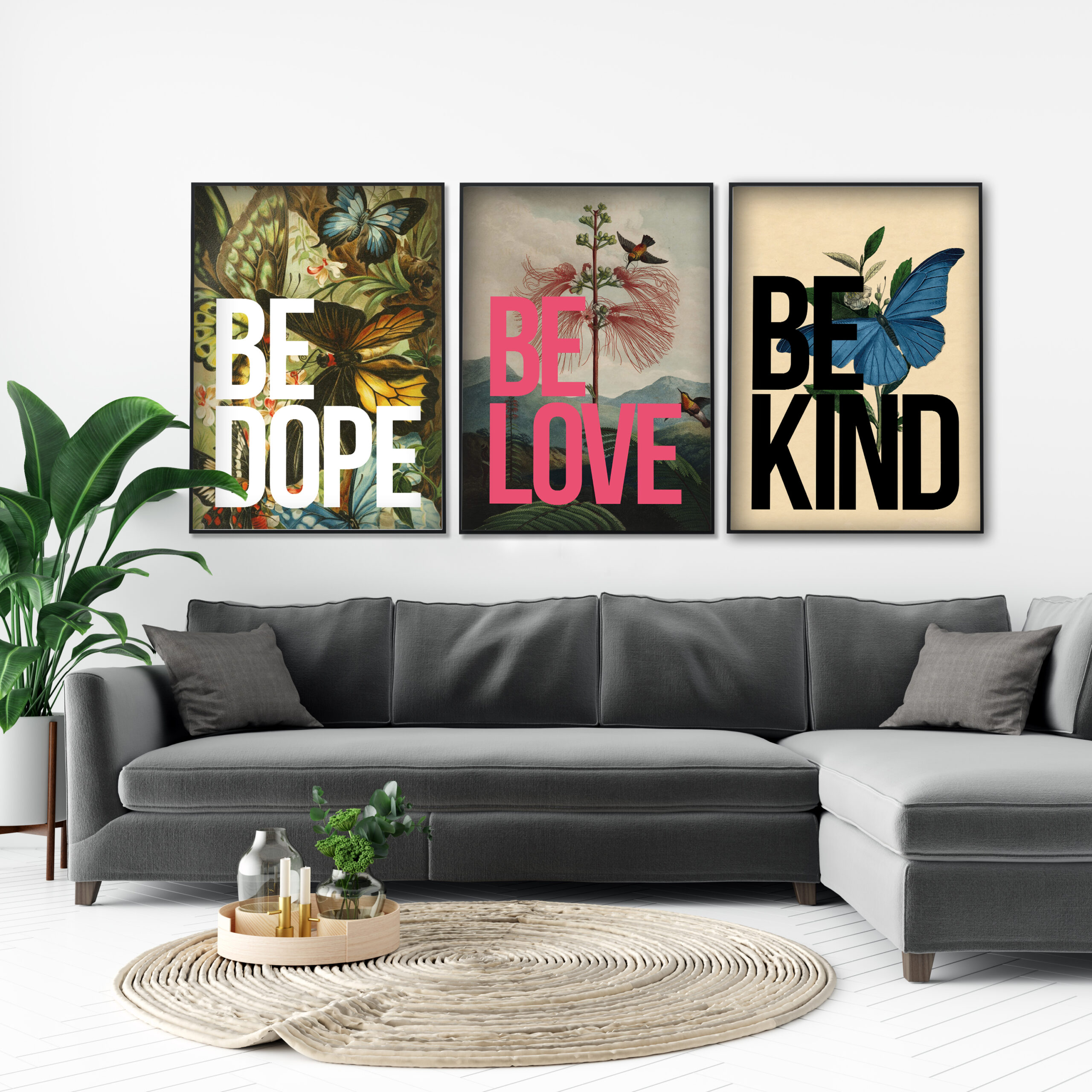 GALLERY WALL FIXTURES
The right tool for the job and all that… Nails, picture hooks, picture rails and command strips. Whatever the medium, make sure it's right for the weight of your picture and the surface it's intended for. No one wants a Nana print toppling over them now do they?!
Go artisan with colourful Washi Tape for a carefree look. Try Wooden poster hangers for vintage inspired styling. Or one of our favourite trends uses Bulldog clips for cheaper, cleaner solution to all your poster hanging needs.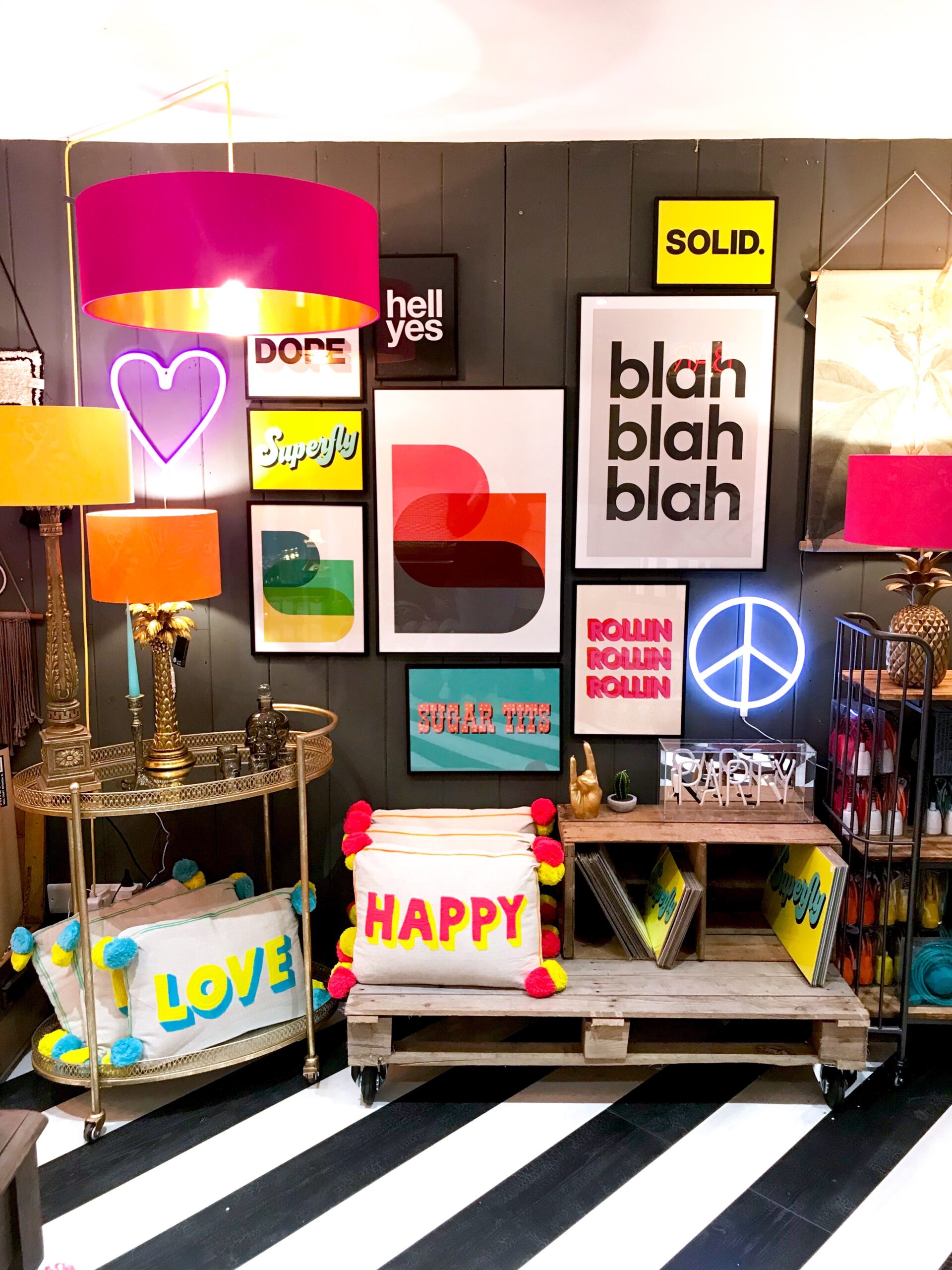 The Nanas Top Tips for Gallery Wall Styling
– Consider the wall colour…
A busy, attention grabbing gallery wall on chintzy wallpaper is going to get a little lost. Let artwork POP on brightly coloured or dark inky walls.
– Keep your peepers on the peepers…
If you have faces in your gallery wall, which way are they looking? Make sure those beady eyes are placed in your layout so they are looking in the right direction.
– Typography really does says a thousand words ...
Do you have typography in your gallery wall which would look better on the left or the right? Do the words correspond with a particular pictures? Our "To The Disco" Poster with its arrow has the option of pointing to the left or the right so you can make sure it points directly to your dancefloor.
– Make an Impact…
Don't be afraid to super size your artwork, a large poster print in our A1 size will never fail to impress. Hang high in your hallway or low above your sofa or dining table for serious style points.
– Prop it like it's hot…
Artwork and posters don't always need to be displayed on the walls. Layer up artwork by collating a number of different sized frames in a display which leans on a picture shelf.
– and don't forget ya spirit level.