Nothing pleases us more than when we see a ingenious twist on a classic design. We are thrilled to be one of the first stockists of the 'Blindfold Portraits' from design giants Young & Battaglia…
Fresh off the success of the best selling Bubblegum Portraits Young & Battaglia have once again brought together two distinctive ages of art; combining the masterpiece of the renaissance period with trending delights of the imagination.
"Blindfold" was a concept developed in the 1800s where a person's eyes were covered when asked to perform certain tasks. It has been said that the blindfolded subject can move into a world where emotions and pictures of the inner mind can start creating visions, much like magical hallucinations.
Young & Battaglia have attempted to create the excitement and magic of the halluinations of the mind with the magnificence of the blindfolded subjects, giving us an eccentric, kooky and beautiful work of art for our walls.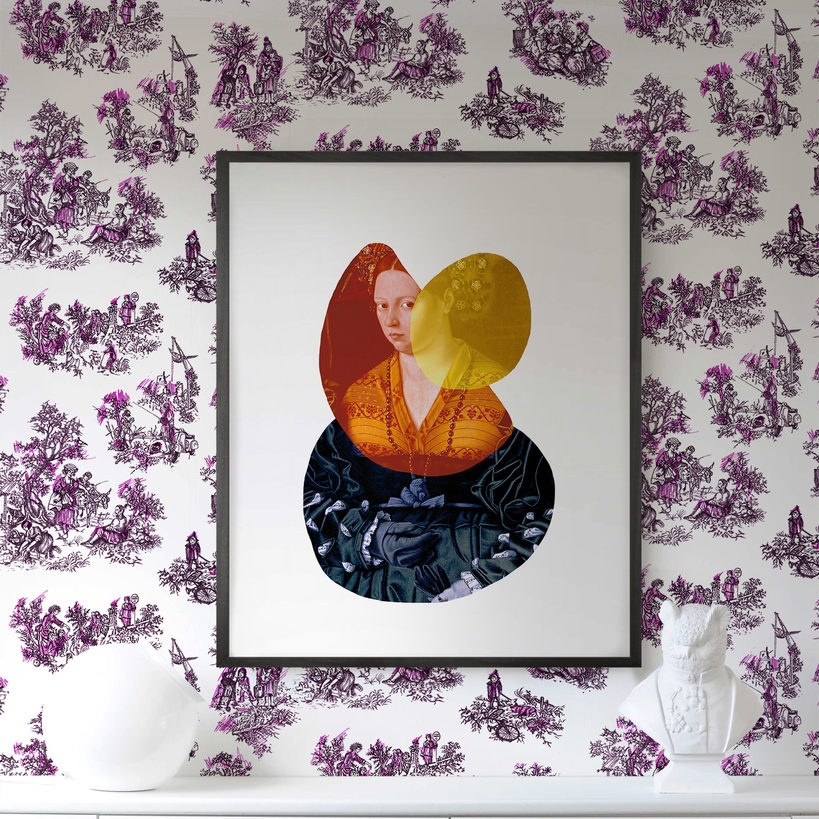 More statement artwork coming once again from the creative minds of Young & Battaglia and guest digital artist Kirin Young.
The 'Shape & Colour Collection' showcases a fusion of Shapes & Colours all varying in style and hues.  On closer inspection, through the coloured hues the shapes discreetly depict a classical image, giving a new perspective that awakens your curiosity and entices you to study the artwork more deeply.
Once caught up in this colourful melody, you come to recognise the real object hidden within the illusion of shapes and colours. This hidden picture could be that of a portrait, beautiful scenery or even a common object from a historical era. This vague imagery means you, the onlooker, can interpret what is then discovered in a manner which suits your mood and intellectual desire.
With 6 new designs to choose from, it's the most colourful collection Young & Battaglia have released to date, blending classic and contemporary art styles beautifully.