We are incredibly proud to introduce to you our unique and eclectic collection of statement wallpapers and wall murals from Scandinavian designers Rebel Walls.  We have collaborated with Rebel Walls to offer you their entire range of bespoke murals and wallhangings all at the click of a button.
There are a plethora of different styles to browse, ranging from bright, bold kids designs, to edgy, distressed concrete or brick effects. Perhaps something more traditional or feminine is up your street, We've got decadent panelling effect and fabulous flirty florals.  Whatever your style, we are certain there is a Rebel Wall for you…
S O  H O W  D O E S  I T  W O R K ?
It couldn't be easier to order your new mural…Instead of ordering your wallpaper in the standard 10m rolls, leaving you with awkward pattern matching and left over rolls.  Rebel Walls are slightly different, all their wallpaper is printed to order to your exact measurements, meaning you only order what you need.  Simply measure the space you are looking to cover, input your dimensions onto the site and get your instant quote.
Each panel of wallpaper comes as a standard 45cm width and will be delivered on rather cleverly designed rolls, telling you exactly where to cut each panel. Simply paste these panels onto the wall in the order they state, et Voila!
Take a peek at the following video to see for yourself…  Rebel Walls : How to Hang your Mural
With so much choice when it comes to wallpaper, it can seem a little daunting; sometimes you may not know exactly what you're looking for, the thought of scouring through pages and pages of different wallpapers can fill you with fear! So let Love Frankie help ease the strain and the difficulty of choice, and join us as we share some of our Rebel Walls favourites…
G O  G R A P H I C
Looking for something sophisticated, edgy and well, lets face it, pretty darn cool? A design or a pattern that is simple, eye catching and timeless, then look no further than some of our favourite contemporary graphic statement murals.
The striking combination of black and white is sure to turn some heads.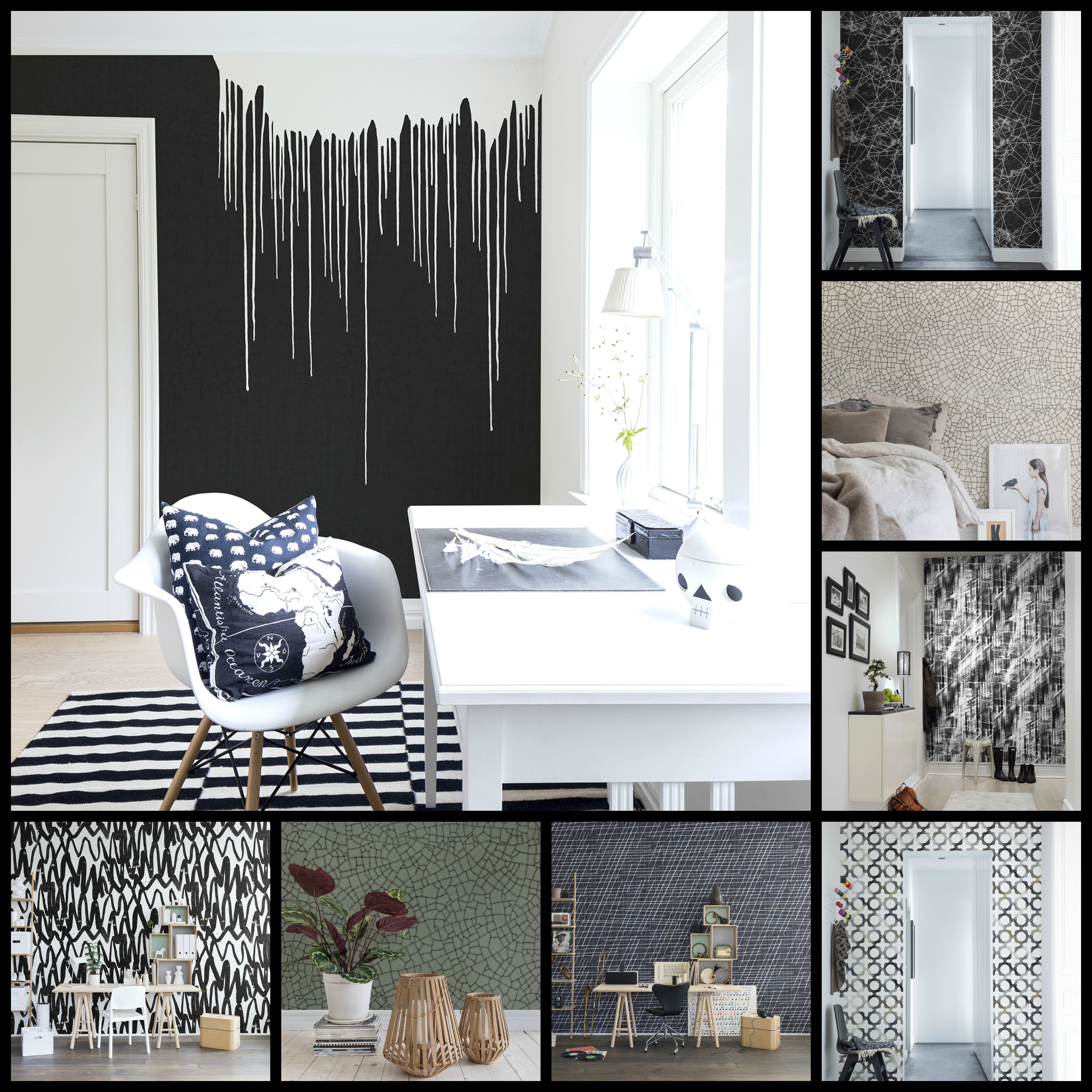 Main Image
Colour Rain

Clockwise from the right
1. Dimension
2. Raku Crackle in Cream
3. Neon City
4. Patchwork Play
5. Note Sheets
6. Raku Crackle in Jade
7. Pulse of Passion
F A B U L O U S  F L I R T Y  F L O R A L S
Gone are the days of grandma's chintzy curtains, or memories of faded floral carpets. Hell no, these Fabulous Flirty Florals have had a seriously good face lift for 2018.  Big, bold, brave and damn right beautiful.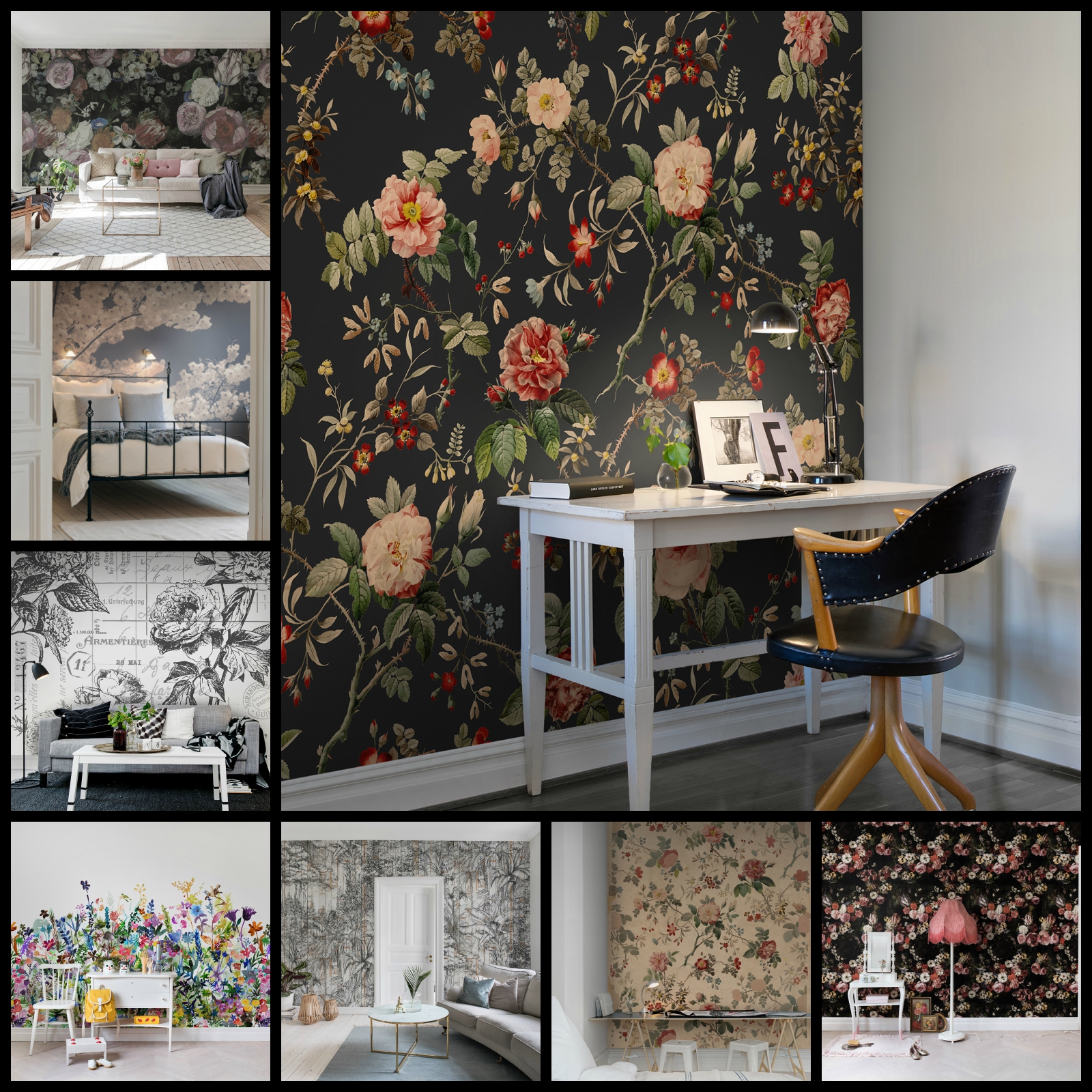 Main Picture-
Thorn Rose
Anti – Clockwise from Left
1.  Blooming
2. Blossom for the Bees
3. Floreal In Black & White
4. May Meadow
5. Secret Gardens, Bali Boards
6. Rosegarden
7. Briar Roses
T I M E  F O R  T R A D I T I O N
Perhaps something a little more classic and traditional is your cup of tea. Rebel Walls have a extensive collection of gorgeous panelling, wood and metal effect papers giving the impression of warmth and texture. It's so realistic, you honestly wont believe it's paper!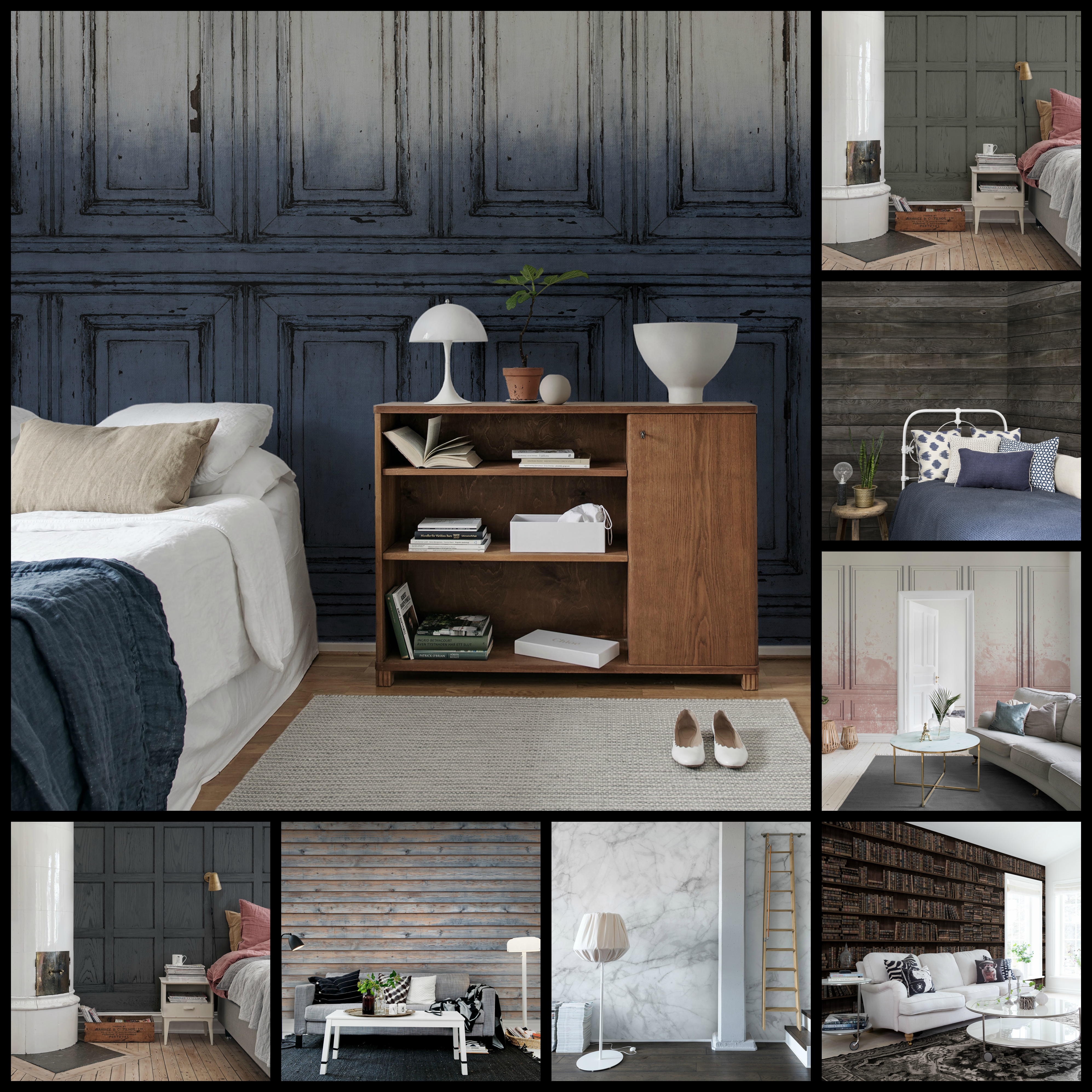 Main Image
Parisian Panels, Dip Dye Blue
Clockwise from Right
1. Panel in Cambridge Green
2. Patinated Panels
3. Stacked Suitcases and Boards
4. Antique Books
5. Marble Art
6. Horizontal Boards
7. Panel in Nightfall
Join us for Be A Rebel Part II where we look at some of the best kids designs, botanical inspired jungalow designs and some seriously cool NY urban loft vibes.
HOW TO ORDER:
Browse the Love Frankie X Rebel Walls collaboration.
Enter the exact dimensions of the wall you wish to cover.
Get an immediate quote for your bespoke mural. No paper wastage and no awkward pattern matching, we promise!
Order through the Rebel Walls Website. (No Payment required yet)
Your mural will be dispatched within 4 – 6 days to Love Frankie HQ.
We will notify you as soon as your mural arrives where the outstanding balance plus our delivery charge of £5.95 will now be due.
Your mural will be dispatched on a next day service.
Unleash your rebellious streak and don't forget to #lovefrankiegang on Instagram as these murals are too good not to share!
For any questions or if you require any help with ordering, please do not hesitate to get in touch!
hello@lovefrankie.com or call our store 01803 866399