INTRODUCING DEADLY NIGHT SHADE THE DEBUT TEXTILE COLLECTION FROM LOVE FRANKIE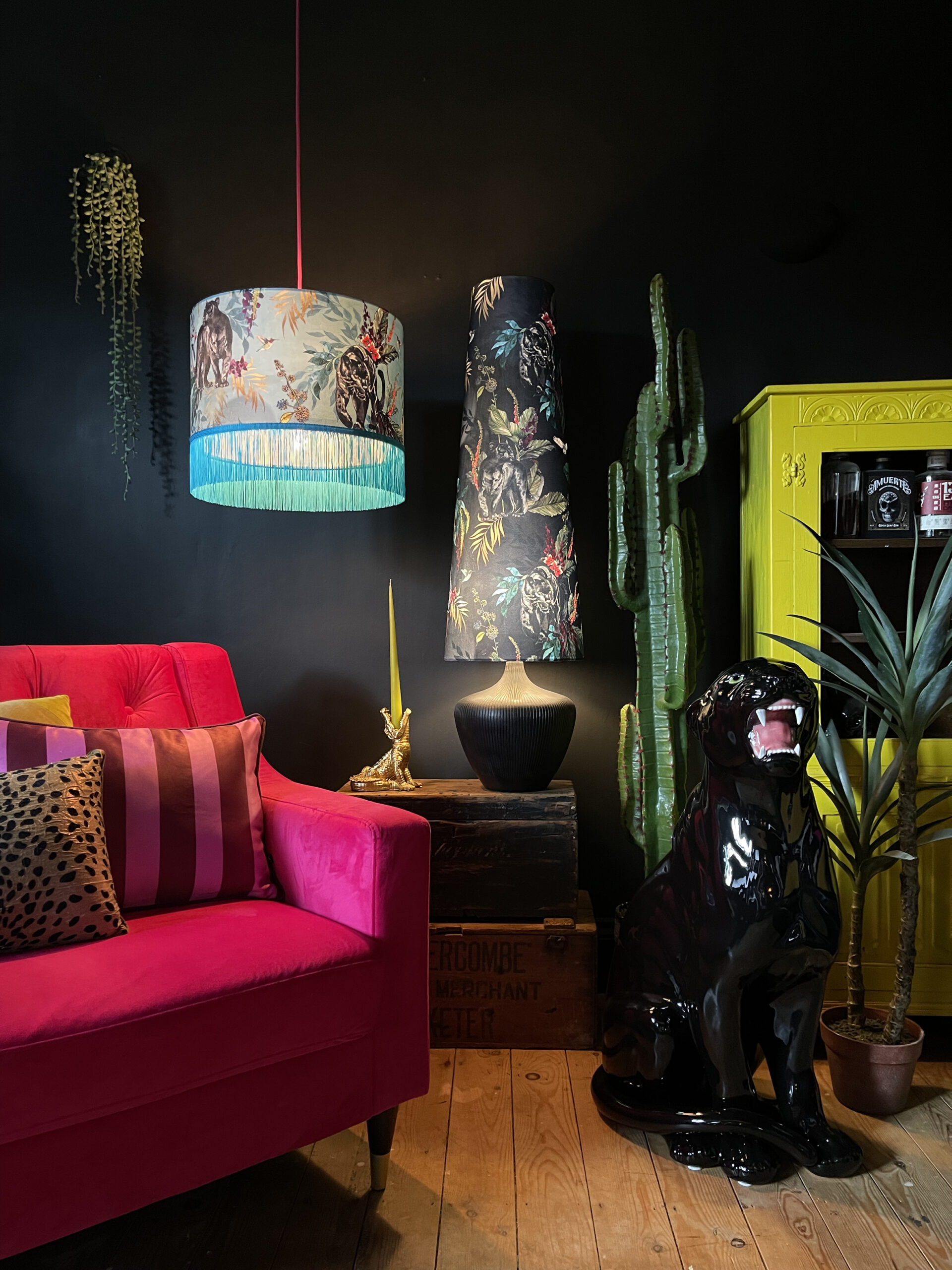 Over a year in the making, we are thrilled to introduce Part I of our debut textile collection.
Deadly Night Shade.

A collection which brings together all our favourite elements from colour and pattern, to nature and the animal kingdom. Each element has been carefully considered by designer Johanna Franks, Creative Director of Love Frankie,
Johanna's design has been brought to life and masterfully painted in watercolour by artist Laura Moscato. This digital masterpiece adorns a multitude of materials including velvet and wallpaper and builds the basis of our debut lighting, wallpaper and cushion collection designed and handmade to order by Love Frankie…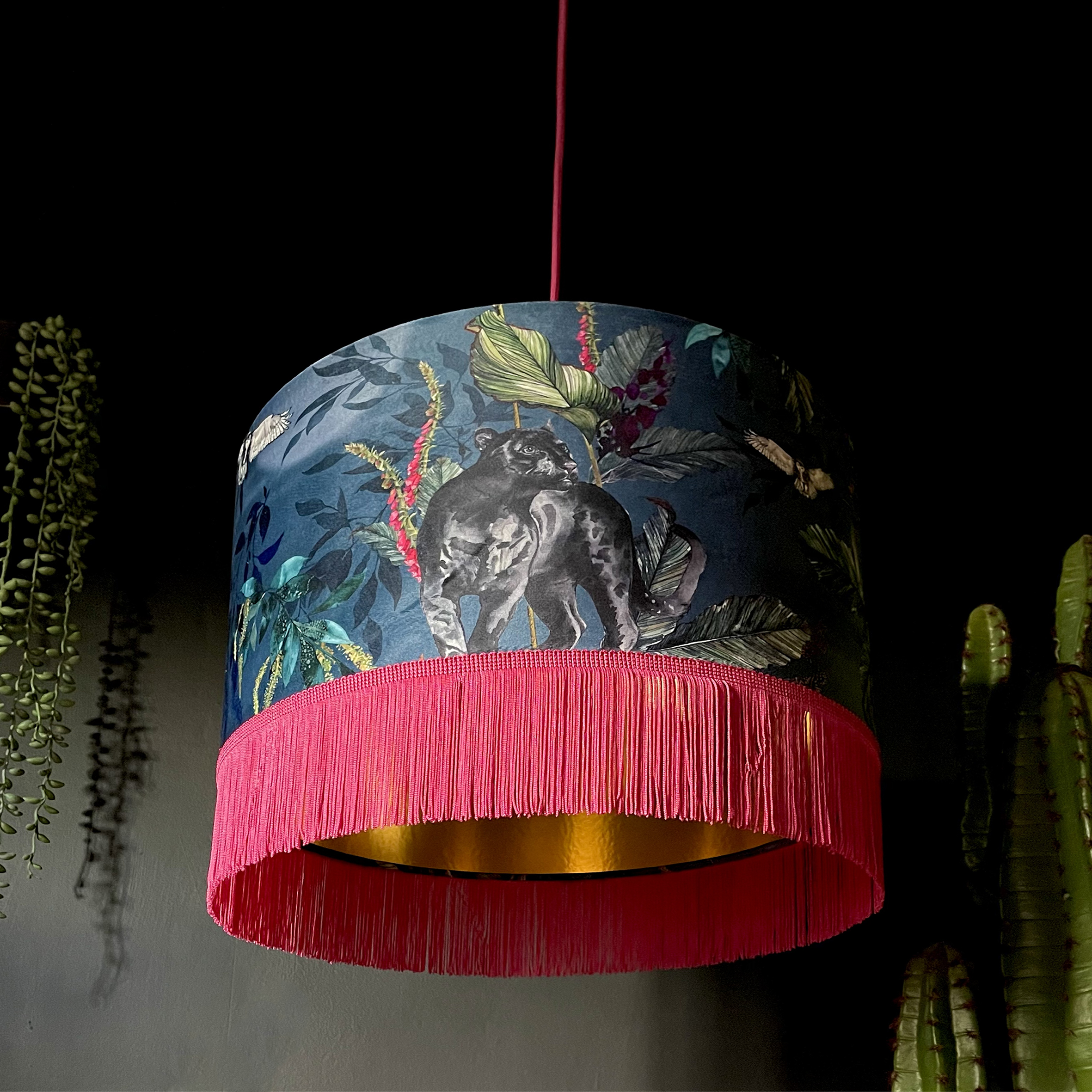 The Deadly Night Shade design illustrates our fearless leader, the Black Panther. She's powerful and curious in equal measure, her enigmatic stance is softened by flowing foliage and colourful flora in all its vibrant glory.
Toxic in the twilight, lit only by the light of the moon our fearless feline weaves in between the shadows. The ambience is calm, eerie, and almost supernatural.  Joined by whimsical hummingbirds and swooping owls ready to catch their prey. These nocturnal hunters work in solidarity throughout this weaving jungle.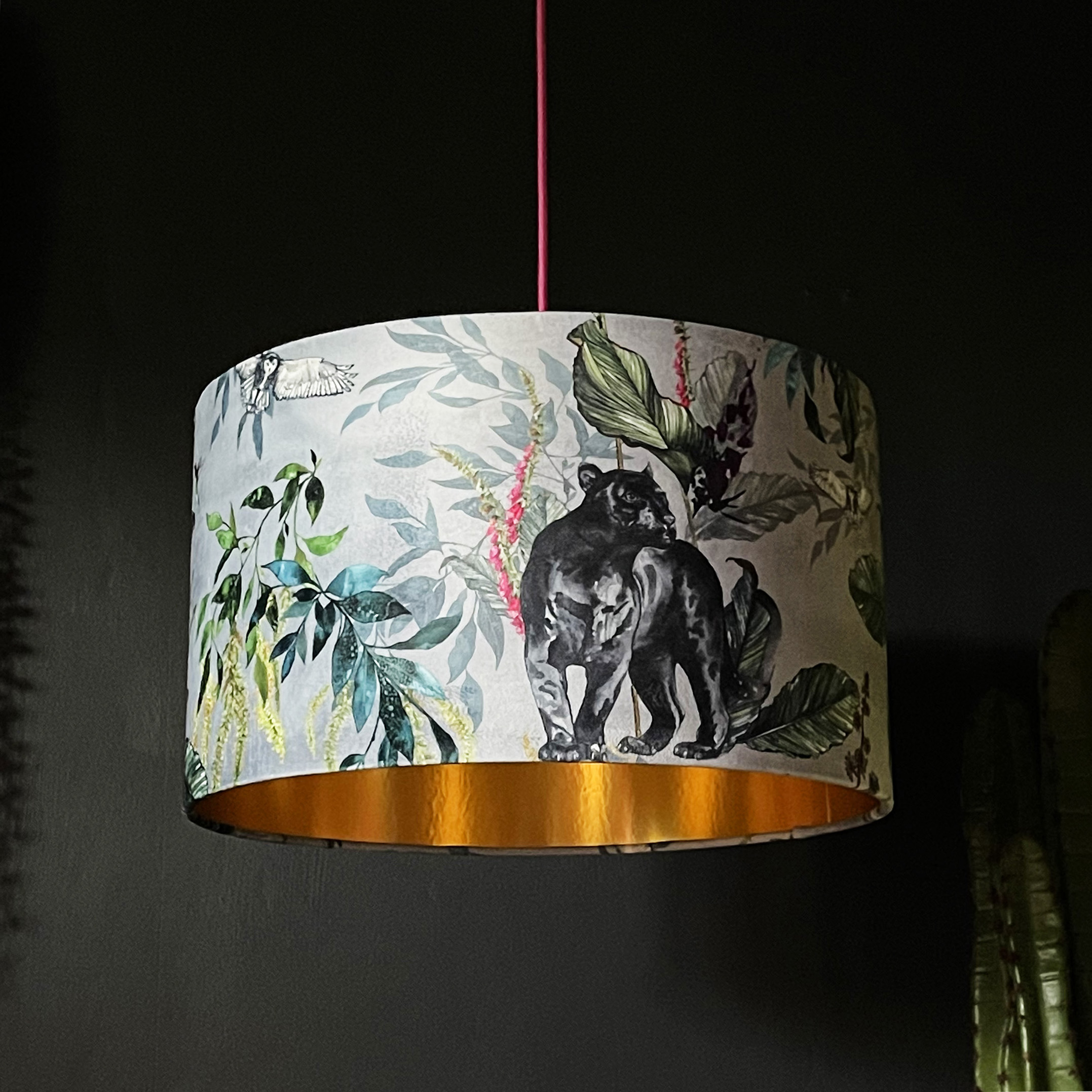 Our statement collection of Velvet Drum lampshades are handmade to order and available in 8 sizes. Paired with or without our best selling gold foil lining, the Deadly Night Shade velvet collection is a match made in heaven.
Soft, tactile, sumptuous velvets paired with opulent gold lining giving a warm, ambient glow when the shade is illuminated.
FRINGED VELVET LAMPSHADES
Decadent Fringing adorns the Deadly Night Shade Velvet Collection offering a touch of grandeur and a vintage twist for a modern home.  Available with or without our best selling metallic Gold Lining.
The fringing is available in a variety of colours to complement and contrast with the sumptuous Deadly Night Shade velvet fabric.
OVERSIZED CONE LAMPSHADES
Our Deadly Night Shade collection wouldn't be complete without our best selling Oversized Cone Lampshades.  Available in 2 sizes, our 70's inspired, tall conical lampshades have been brought up to date with fresh, modern fabrics and designs.
Intended for use with short, squat, bulbous table lamps to make the most of the statement shade and to truly channel that 70's vibe, our Oversized Cone Lampshades are here to make an impact.