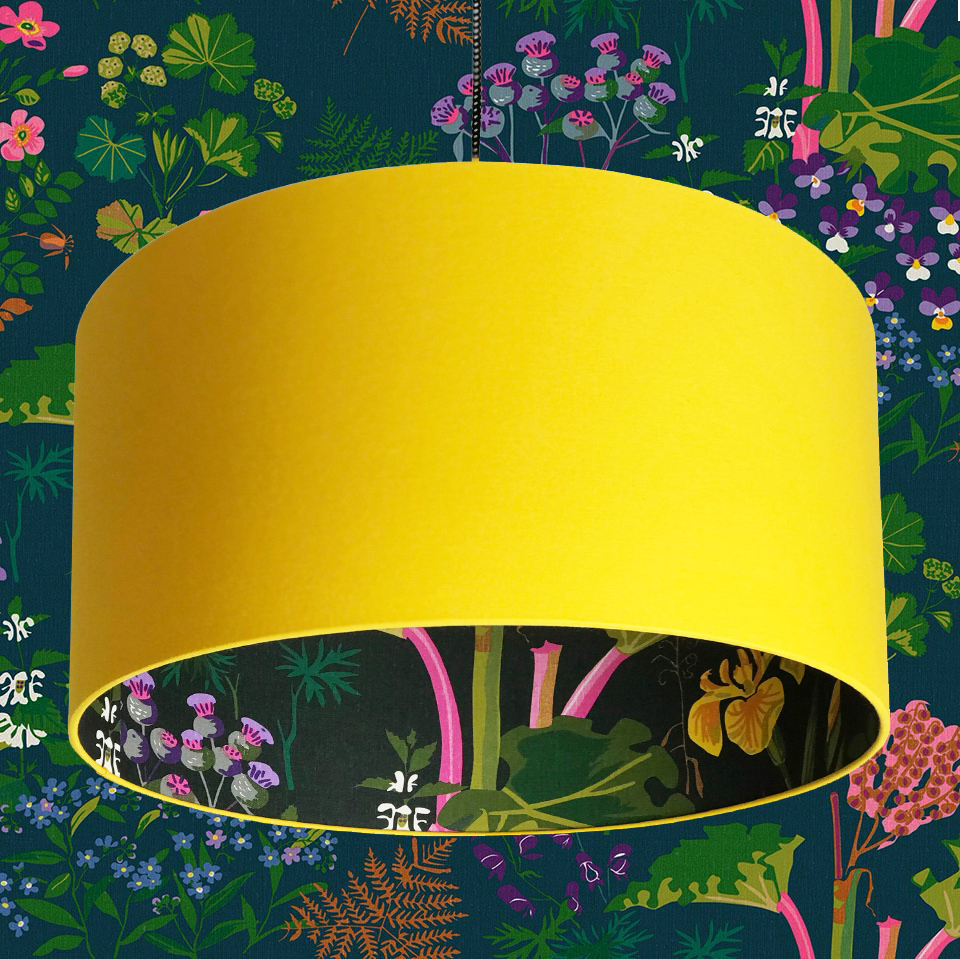 Going back to nature with our newest collection of FABULOUS FOLIAGE Silhouette Lampshades.
The Rabarber wallpaper designed by renowned Scandinavian artist Gocken Jobs features fabulous hand drawn foliage including Rhubarbs, Violas and Dew Cups paired with a sumptuous forest green backdrop.
Beautifully given the Love Frankie treatment, we have turned this classic Rhubarb wallpaper design into our best selling and most notable collection of Silhouette lampshades.  This fabulous foliage design has been carefully paired with complementary cottons in Egg Yolk Yellow, Candy Floss Pink and Deep Space Navy.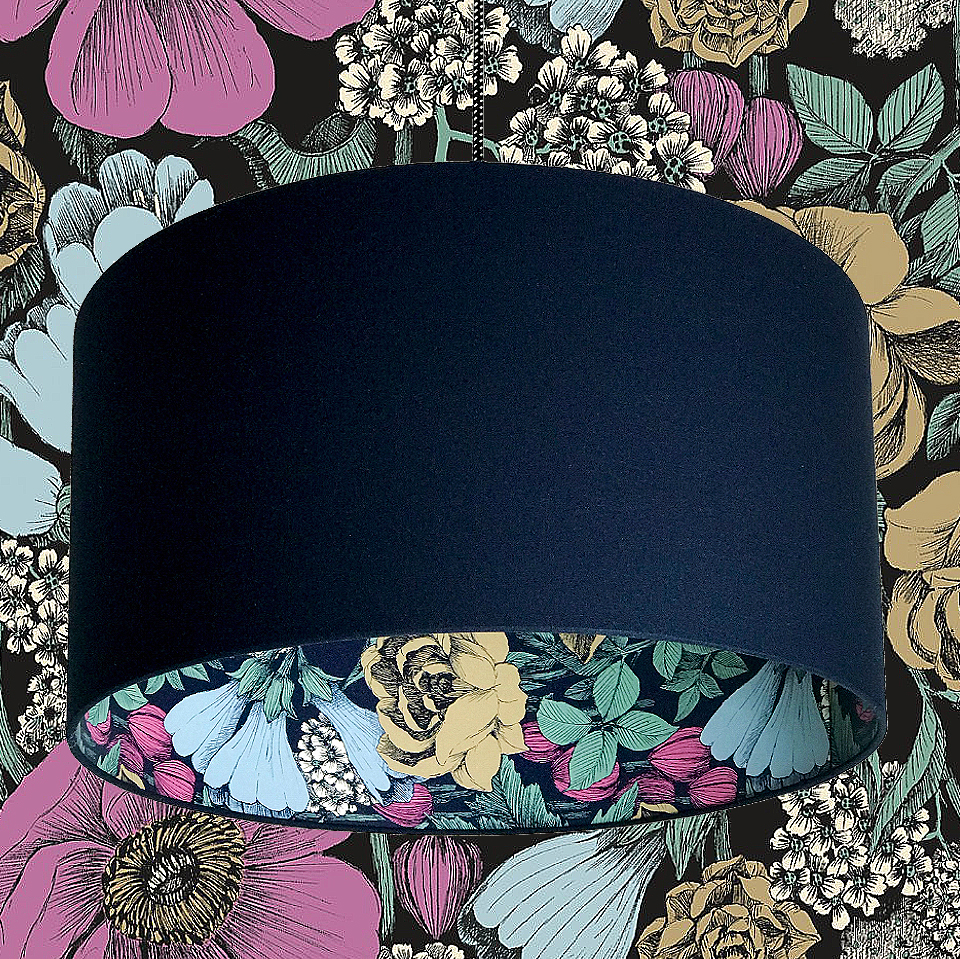 The Oodi wallpaper by Finnish Design House Marimekko showcases a vintage inspired bold statement floral motif.
Available in Colour or Black and White, the first picks up on the bold colourings of duck egg blue, bubblegum pink and green on a rich inky background. The latter, a statement monochrome design depicting hand drawn flowers and foliage. These eye catching floral creations will bring an air of vintage magic to any space.
This classic Marimekko wallpaper lends itself perfectly to the style and design of our Silhouette lampshades. This Fabulous Foliage design has been teamed with our Deep Space Navy or Crisp White cotton. The latter allowing the floral print lining to subtly appear through the sides of the shade once the light is illuminated.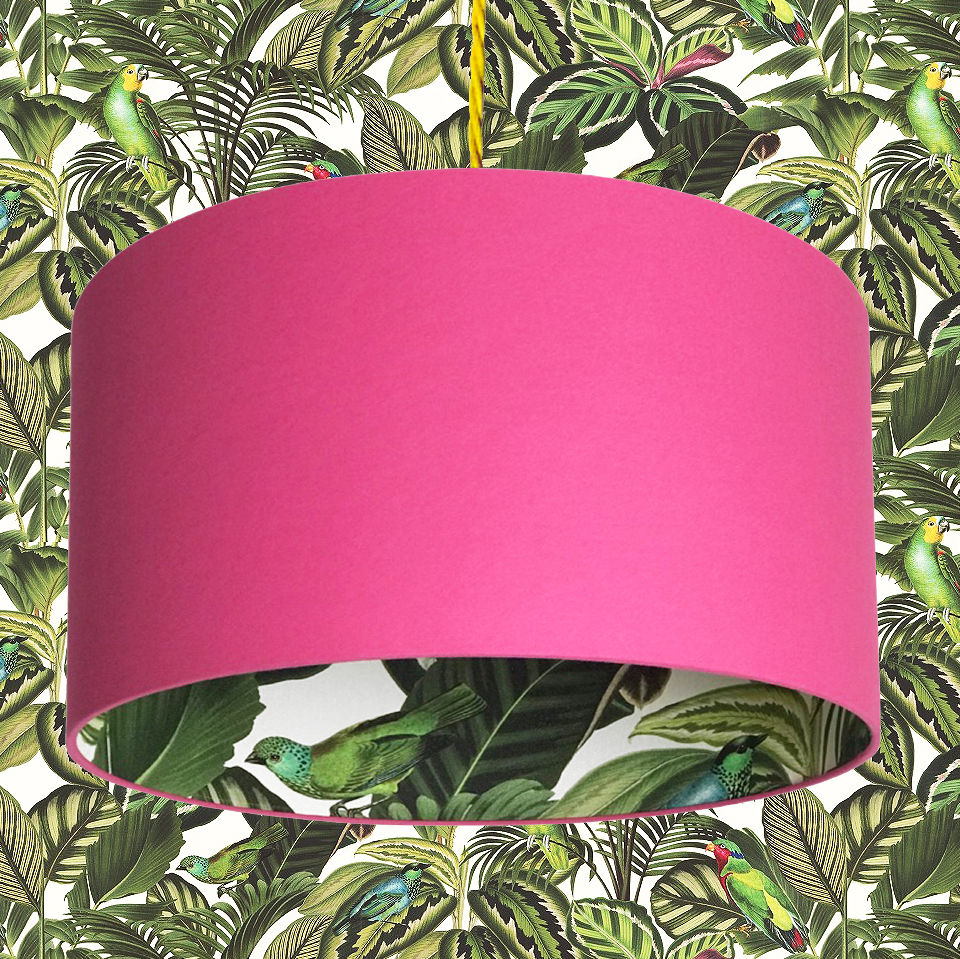 Think free spirited bohemia, think saucy succulents and gorgeous greenery. Our fabulous foliage collection of Jungle Inspired lampshades are bang on trend this season and are perfectly suited to fit into almost all decor schemes.
These beautiful silhouette lampshades are made using a gorgeous tropical jungle print wallpaper featuring palms, leaves and parrots paired beautifully with our bright watermelon Pink or Zesty Jade Green cotton.
So go on… go WILD with your style and celebrate colour, pattern and plants with Love Frankie
x