It's been a while hasn't it?
I apologise for the silence, I've been a tad busy here at Love Frankie Towers, but hey, who isn't these days?
I thought a nice easy welcome back to the blogosphere would be to share a little interview I did for Style Squeeze.

Run by three kick ass, super cool chums I met through instagram; Pati Robins – Photography whizz, with possibly THE best home on Instagram,  Nickie Kelly – My go to design guru for art prints and posters and JT Collins– who effortlessly shows us all how to style up our new build homes the right way. The new Style Squeeze Website is teaching us all how to maximise space and decorate on a budget.
I caught up with Pati for a well deserved coffee break and it went a little like this…..

If you haven't heard of Love Frankie – Then you need to check this brand out ( after you read this blog post of course 😉
Before I let an amazingly talented interior designer Johanna Franks aka Mrs Magnolia(nickname is out there in great big world wide web now Jo 😉  ) – take over the blog , let me throw a few words here – I meet Mrs Magnolia on Instagram few months back – and we hit right off !
Super funny, full of energy down to earth, and wacky – there is nothing "Magnolia" about this girl and her brand!
Love Frankie – sells most amazing lighting , lampshades home accessories and bedding with a twist that would suit any decor! I was lucky enough to own a Flamingo leg lamp – "was" – because my daughter refuses to give it back to me -and my own mother warned me already than when she visit that lamp will end up in her bag.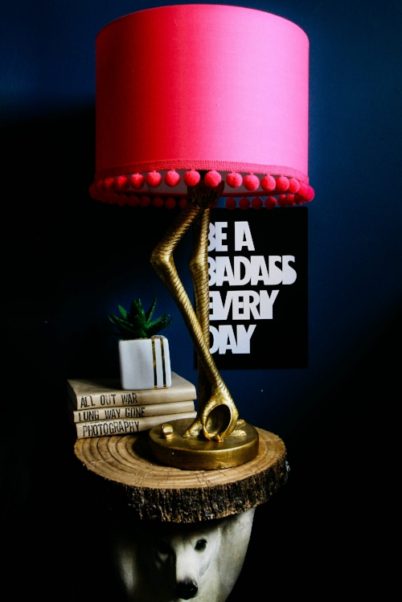 I mean just look at that lamp! Its colour and details are amazing i love the fact that it comes with hot pink shade that gives off beautiful glow in the evening – you could keep it as it is , customise it or better ask Love Frankie to make you a custom one
As I already mentioned Love Frankie got amazing range of lampshades in any colour or pattern combination you can think of -suitable for both adults and children alike
In the antique gold range besides the flamingo lamp you can also get a cactus, palm tree ,and pineapple all of which are beautifully designed and can be easily mixed and matched for a truly eclectic look
That lamp literally fits any decor and any room – this is where i wanted to place it originally but my daughter claimed it as hers …. My mum used to say " kids they bleed you dry" – and I always thought shes exaggerating . Now i am eating my own words . So let me give you a patenting advice – if you are planning a child and want to have a taste of how motherhood is like -besides tantrums – wear the crappiest leggings you can find splatter it with bits of food , throw your money away , and remove most of nice pieces of furniture and accessories you have or better throw them in the bin – not to forget – keep your hair in a bun for a week – it will then become a messy bun . Still i wouldn't have it any other way – besides the fact that i want MY LAMP back !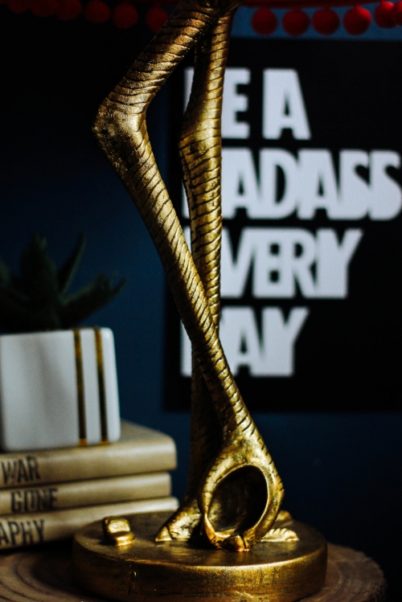 Mrs Magnolia in her own words :
Can you tell our readers about yourself and your brand ? 
Hey, I'm Jo, designer, pr girl, social media bod and tea maker at Love Frankie HQ. Love Frankie is a creative lighting and interiors brand founded by yours truly. I am a former interior designer turned lighting and homewares peddler. I have a small UK based team that hand make all of my products and I take care of all the designing and marketing. I am opening a bricks and mortar shop in Totnes in September so my product range will be expanding as well as offering an interior design/styling service next year…EEEkkkkk…that sounds so grown up!
What piece are you most proud of , or one that has a significance to you
I have two favourite things I've designed…I used to have stalls at Camden and Spitalfields market in my 20's and I used to make and sell toilet seat covers with pictures of Elvis and The Hoff on…think leopard skin fake fur, marabou feathers and a dash of neon! It still cracks me up that I had the balls to think I could make money out of these but I actually couldn't make them quick enough as I sold tonnes of them!
On a serious note, I love the way the way my lighting design has progressed and my favourite piece I have designed is from my new Deadly Night Shade collection. Its my black crocodile skin velvet lampshade with black fringing…its a saucy little minx!
Can you tell me some of your strengths that really helped you in your design journey ?
I think my main strength is I'm a tenacious mo fo…I'm like a dog with a bone and I just won't take no for an answer! Designing for me keeps me sane, I'm so lucky to be able to do what I love and I really push myself, maybe sometimes a bit too hard!
What would be your tips for anyone thinking of starting their own business in design
Top tip for starting a business would be to grow a giant pair of balls. Be prepared to work your ass off and really know your market. Research and get inspired and be yourself…you will never feel satisfied if you copy anybody else. 
What was your greatest failure and what did you learn from that?
I think failures really help you grow. I guess the down point in my career was when I realised that I was bashing my head against a brick wall designing kids clothes alongside my lighting and interior products. I think my designs were good but it was not my strength and it was a really hard decision to stop, but the best decision I ever made. I realised that I couldn't do everything and had a good look at where my strengths were and it was all about interiors for me. I rebranded and have gone from strength to strength. 
Who has impacted you most in your design journey and how?
There have been a few designers that have influenced me, mainly because they have the strength to be themselves even though their designs are pretty out there. Phillipe Stark loves a bit of bonkers, as do Moooi, Japanese fabric designer Etsuko Furuya and my absolute favourite, the legend and all time embracer of bonkers, the Japanese artist Yayoi Kusama
Were you artistic as a child?
I was always drawing as a child, I used to pretend I was asleep and sit and draw under the covers with a torch for hours. Being creative was like something that ran through my blood, its all I ever wanted to do. Its like it never switches off, I sometimes dream about things I've designed and then have to hop out of bed and make them! Is that weird?
Since Style Squeeze is all about small spaces – how would you squeeze most of small square footage (your tips suggestions )
You can cram so much into a small space, you just have to be clever and be prepared to do things in an unconventional way. There are no rules when it comes to designing your interior, just go for it, if it doesn't work, try it a different way, you'll know when its right. Trust yourself.
What do you do in your spare time?
I love the out doors, in my spare time I love to head to beach for a game of Frisbee with the kids, horse ride and paddle board. Since moving to Devon I try and switch off every weekend and try not to think about work as I do get totally obsessed…I'm not great at relaxing!
Do you put limitations on the work in terms of brave and bold or is there no fucks given?
No fucks given…but there is an element of insecurity that comes with designing. Once you put a new design out into the ether there is always a bum clenching couple of weeks waiting for feed back!!! 
design or functionality
Design..always!
What's the stupidest thing you've ever done?
Too many to mention!
Which bad habits of other people drive you crazy?
Bad manners and eating loudly
Favourite dinosaur ?
The OH reckons I'm like a velociraptor! I think he's like a diplodocus so I'll go for that big bad boy!
What was the worst job you have ever had?
I have had so many shit jobs and walked from lots of them! At 22 I decided to go it alone, so apart from a few years as an interior designer in my late 20's I have always worked for myself.
Would you rather Kiss a jellyfish or step on a crab?
Step on a crab
Coffee or tea?
Tea
What is the one thing, you can't live without?
Jalepenos (kids, OH, camera and phone!)
In " Alternative universe if you could be any piece of furniture what would you be ?
A beautiful vintage standard lamp with a big chintzy lampshade with fringing and pom poms
Who would be your idea client to work with
Pati Robins x
To read the original interview and to get all the juicy goss on how to style your small spaces please hop on over to Style Squeeze.
Thanks Pati, you legend!
Love Frankie x